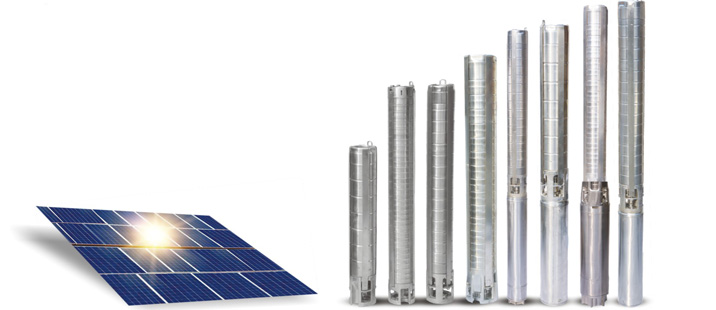 Solar Water Pumps
Oswal Pumps Limited: A Leading Solar Water Pump Manufacturer, Supplier, and Exporter With the increasing concern for sustainability and the depletion of natural resources, the demand for solar-powered solutions is on the rise. One such solution is the solar water pump, which is becoming increasingly popular in various industries. Oswal Pumps Limited is a leading solar water pump manufacturer, supplier, and exporter, providing innovative and efficient solutions to customers worldwide.
As a solar water pump manufacturer, Oswal Pumps Limited has been at the forefront of developing cutting-edge solar pump technologies. The company has a team of experienced engineers and technicians who work tirelessly to design and produce high-quality solar water pumps that are both reliable and efficient. Our products range starts from small domestic pumps to large commercial & industrial pumps.
As a solar water pump supplier, Oswal Pumps Limited understands the importance of meeting the diverse needs of their customers. The company has a wide range of products, with varying specifications and capabilities, to cater to different applications. Our solar water pumps are suitable for applications in agriculture, horticulture, irrigation, and domestic use. They are also designed to operate in a wide range of conditions, including low light, high temperatures, and harsh environments.
Oswal Pumps Limited is also a leading solar water pump exporter, with a global presence in various countries. Our products have been well-received in markets around the world, with customers appreciating their quality, reliability, and affordability. The company has a strong supply chain network, which ensures that their products are readily available to customers in different parts of the world.
One of the advantages of using Oswal Pumps Limited as your solar water pump manufacturer, supplier, and exporter is their commitment to customer satisfaction. The company has a team of customer service representatives who are always available to answer any questions and provide support. They also offer installation and maintenance services to ensure that their products are running smoothly and efficiently.
If you are looking for a reliable and efficient solar water pump manufacturer, supplier, and exporter, look no further than Oswal Pumps Limited. With their commitment to innovation, quality, and customer satisfaction, you can be assured of getting the best solar water pump solutions for your needs. Contact them today and start experiencing the benefits of solar-powered water pumping.
The all new OSSL series of Solar Submersible Pumpset has been introduced by OSWAL, which is a state of art technology product designed to provide eco-friendly and energy efficient solution. Oswal OSSL Series Stainless Steel Submersible pumpset is more suitable for Solar Pumping system. Our range of submersible pump is anti-corrosion in nature and provides high wear resistance. It reduces the running costs due to its high pumping efficiency and longevity. It can work continuously for a longer period of time without any trouble which results in high reliability and provide best results.

Ideal for remote areas where electricity is not available.
Drip Irrigation & sprinkler for farms
Water supply for schools, hospitals, homes, institutes & Government establishments.
Industrial applications.

Operating Conditions :
Max. Liquid Temp. - 45°C
Water ph Value - 6.5-8.0
Max.Quantity of Sand - 50gm/m³
Pumped liquid - Clean Water free from solids
chemically natural & close to
haracteristics of water.
Start /Hours - Max.30 at regular interval

Suitable for day time Irrigation, continuous output for 6-8 hours in a day. We offer Submersible pumps with energy-efficient duty point ranging from 1-50 m³/h. Complete range of pumps & motors which as a standard are made completely of stainless steel AISI-304. This provide for good wear resistance and a reduced risk of corrosion when pumping normal cold water with a minor content of chloride. Stainless Steel means less weight which facilitates easy handling of pumps and results in low equipment and installation cost and service time. In addition pumps will be as new even after long application tenure due to the high wear resistance of stainless steel. OSSL series contribute to clean & pollution free energy without any harm to nature. OSWAL has the best range of BEE 5 Star Rated Stainless Steel of Submersible Pumps.
Specification
OSP-2,3,5,8 & 14 Series
Pawer Range
1 - 10 HP
Standard as per
NEMA
Versions
230 V & 415 V in 3 Phase.
A.C, 50 Hz, DOL / Star
Discharge Range
15300 -810000 LPD
Head Range
7 – 100 mtrs.
Outlet size
40, 50, 65, 75 , 100 & 125 mm
Degree of protection
IP 68
Max. OD Range
97.5 - 255 mm
Duty
S1
Input Watt Range
1200 - 9000 Wp
Material of Construction Pump :
Discharge Chamber
Stainless Steel
Valve Sheet
NBR + Stalnless Steel
Impeller
Stainless Steel
Diffuser
Stainless Steel
Pump Shaft
Stainless Steel
Suction inter Connector
Stainless Steel
Coupling
Stainless Steel
Pump Casing
Stainless Steel
Material of Construction Motor :
Upper, Lower Housing & Motor Base
Stainless Steel / Cast Iron
Stator Shell
Stainless Steel
Shaft
Stainless Steel
Journal Bush
Carban Bush / GM bush
Thrust Bearing Set
SS 420 and Graphite Carbon
Application in :

• Rural water supply from borewell
• Domestic & agriculture Supply
• Farms & Irrigation.
• Civil & lndustrlal.
• Water supply systems of Government