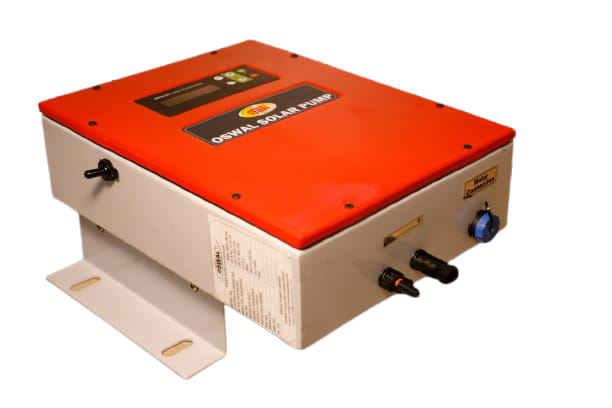 Oswal Solar Pump Controller (Solar Pump Inverter-IP65)
A transformer-less Inverter system, with 110/160/230/320/415Vac, 3-phase output voltage and V/F control to manage pump starting condition (soft start). The equipment is micro controller based and operated with software for digital control of inverter parameters, fault finding-diagnostics and digital I/O signaling.
Oswal solar Pump Controller Technical Specification
MPPT Controller
With the Inbuilt MPPT (Maximum Power Point Tracking) function, it regulates the output frequency according to irradiation in real time to achieve the maximum power. Adopting the proposed dynamic VI maximum power point tracking (MPPT) control method, fast response and stable operation, better than the conventional methods, which may lead to the problems including poor tracking performance, unstable or even cause water hammer damaging when the irradiation on the array changes rapidly.
Salient features of Oswal Solar Pump Controller
When solar power is not available controller can be automatically or manually switched to an alternating single phase or three phase input ac supply.
High resolution LCD display shows speed(%), input DC voltage, Output AC/PWM voltage and current system status.
Uses MPPT technology to maximize water delivery at various solar energy level.
MPPT maximize power points tracking for maximizing the effciency of input power.
GSM option also available to controls and monitor remote locations pumps.
Remote telemetry capability through RS485 continuous data points(optional)
High flow systems for faster tank fill and significant water outputs.
Simple installation and easy maintenance.
The control unit convert that(DC) power into alternating current for AC power ans supply is further given to the submersible pump through cable.
Operate through Oswal mobile APP.
| RATING | 3 HP | 5 HP | 7.5 HP | 10 HP |
| --- | --- | --- | --- | --- |
| Pump Controller Rating | 2.2 kW | 3.7 kW | 5.5 KW | 7.5 kW |
| MPPT Range | 250—450 VDC | 350—790 VDC | 350-790 VDC | 350-790 VDC |
| Controller I/P Voc | 310-450 VDC | 540-790 VDC | 540-790 VDC | 540-790 VDC |
| Controller I/P Vmp | 310-450 VDC | 450-790 VDC | 300-790 VDC | 450-790 VDC |
| Controller I/P Current DC | 10 Amp | 10 Amp | 18.5 Amp | 18. 5 Amp |
| Controller 0/P Current | 9 Amp | 9 Amp | 17 Amp | 17 Amp |
| Controller t/P Power (kW) | 2.2 kW | 3.7 kW | 5.5 KW | 7.5 kW |
| "Enclosure IP Protection | IP 65 | IP 65 | IP 65 | IP 65 |
| MPPT Tracking | yes | yes | yes | yes |
| OperaWngTemp | C(-10) to C(+55) | C( 10\ to C(•55) | C(-10) to C\+55) | C(-10) to C (+55) |
| Inside the control box | up to 60 | up to 60 | up to 60 | up to 60 |
| Relative Humidity | Less than 95a, | Less than 951, | Less than 951, | Less than 95a, |
| Controller overload capacity | 1201 rated current for 60s | 1201 rated current for 60s | 1201 rated current for 60s | 1206 rated current for 60s |